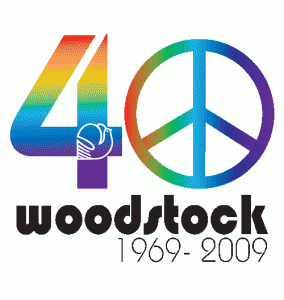 It's hard to believe that the 40th anniversary of Woodstock is this summer. I was 14 during the summer of 1969, spending the summer at Pineacres Camp in the town of Wallkill, NY. A little known fact is that back then, Wallkill was supposed to be the site of the Woodstock Festival. I remember that me and my bunkmates were all excited to think that right in our backyard there would be this wonderful happening concert! Oh the plans we had… to camp out and listen to all the great bands! Much to our disappointment the venue was changed to Max Yasgur's 600 acre farm in the town of Bethel. It seems the folks of Wallkill just didn't want a huge rock concert taking over the town.
And so Woodstock happened at what is now called Bethel Woods and I remained in Wallkill dreaming about what it would have been like. I don't know if I would have lasted all three days of rain, mud and rock and roll but it sure would have been a great story to have been able to tell.
My Woodstock Anniversary design is at the top of this post. Click here to view this design on t-shirts, mugs, hats, tote bags, buttons and many other cool gift items. Peace, Love and Flower Power!