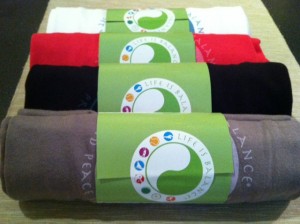 My Life is Balance Facebook page has reached an awesome 400 fans! Thanks in part to a group of women I have come to know on a Martha Stewart forum called Dreamers into Doers. We are all entrepreneurs with a dream, and doing something to make it happen. With their help as well as help from another great group that I joined, the IndieExhibit,  my page went from under 100 fans to 400 fans in just a couple of months! The IndieExhibit represents independant artisans and creatives in celebrity gift lounges in Hollywood. Thank you to everyone … you all rock!
So, in honor of this milestone I'm going to have a give-away of one of my Life is Balance® t-shirts! Here's the way it will work:
1. Like Life is Balance® on Facebook
2. Follow @LifeisBalanceTs on Twitter
3. Visit our website, LifeisBalance.com and our Etsy Shop 
4. Post a comment below letting me know you've done the above steps and tell me what sport or activity balances your life.
I will pick a winner at random by next Monday, August 8 to receive a Life is Balance® T-shirt.