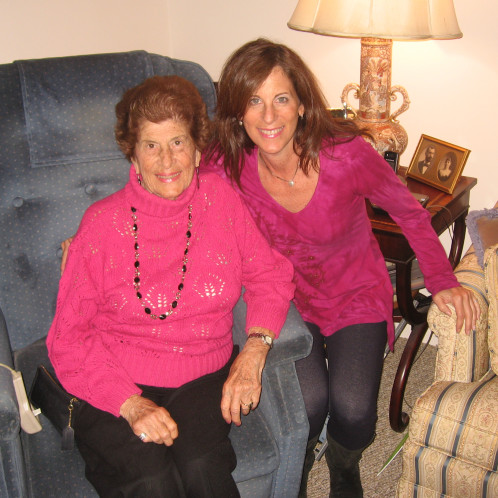 I have been so blessed and grateful to have had my mom with me for as long as I did. Although her world got smaller over the last few years as she lost much of her cognitive abilities, our time spent together was still filled with love and light. When I came to see her she would always light up, smile and tell me that she loved me. And for that I will forever be thankful.
When you think about your parents, you don't usually think about their lives before they became parents. I learned a lot about my beautiful mother, 7 years ago when I was compiling photos for a video montage that I created for her 90th birthday. In looking through all of the photos I discovered that as a girl, she had lots friends with whom she socialized, going away on weekend trips to the country or the beach. I realized that my mom was not very different from me – well maybe one thing was different – there are lots of photos of her posing with various sports equipment, although I can't honestly say that I have ever actually seen her participate in any sport – except for swimming, which she loved – so we at least did have that in common.
She met my dad and they got married in 1944 when he returned from the war. They had my brother Neil, and 8 years later they had me. She swore that I was not an accident. My parents were married for 27 years when my dad passed away at the age of 59, just two months shy of my 16th birthday. My mom, put aside her grief to make sure that my Sweet Sixteen did not go un-noticed. She gathered my best girlfriends and we had my party at our apartment, complete with the sugar cube corsage that her mother had made for her.
As mothers and daughters often do, my mom and I have always shared a special bond.
We traveled together visiting all the places that she and dad had never gotten to, making our own memories. Later, her passion for travel grew to include many trips – with her mother, her friends and finally with Hy – her second chance at love. I am forever grateful for the years that mom and Hy were able to share, bringing joy and companionship to each others lives.
My mom was an artist. Her painting are hung throughout her apartment. She continued to paint well into her later years, and when that became too much she sketched with colored pencils well into her early 90's. I think that I inherited her talent and love for art, and for this I thank you mom. She loved to visit museums when she was younger and even worked as a docent in an art museum for a while.
My mom was beautiful, both inside and out. She was a loving daughter, an extraordinary mother, a doting grandmother to Joseph and Alexandra, an amazing sister to Alan and sister-in-law to Roz, and a more amazing aunt to Michael and Beth. She and her cousin Irma were as close as sisters.
Mom was loved by one and all. She was kind to everyone and never had a bad word to say about anyone. Even when she could no longer remember names, she would always say hello  and smile at whoever passed her by. She was always concerned about us – if she was cold, she'd say "I'm cold, put on a sweater."
Mom had many friends and she always tried to stay in touch with them, if not in person then by phone. From her close girlfriends that she had growing up to friends from 2840, our apartment building in the Bronx, summer friends from the bungalow colony, colleagues from the Bank of Commerce where she worked as a marketing manager and later on, friends from the neighborhood and pool in Riverdale where she lived.
Mom was blessed to have two wonderful aides, Faustina and Ruth, who cared for her for the past three years with kindness, compassion and love that went above and beyond. Thank you both for all you have done for her.
For years, my mother told my brother and I that her middle name was Dorothy. At her 90th birthday party, my uncle said that he always thought her middle name was "Darling." We teased her about this. Although I never could find confirmation of this since her birth certificate has neither name on it, I think the name suits her. Ironically, her greeting to those closest to her was always "Hello Darling, so great to hear from you." And so I say goodbye to my darling, wonderful mother, Berenice Darling may you forever rest in peace. I will love you always.
This entry was posted on Tuesday, January 20th, 2015 at 12:03 pm and is filed under
Life
. You can follow any responses to this entry through the
RSS 2.0
feed. You can
leave a response
, or
trackback
from your own site.