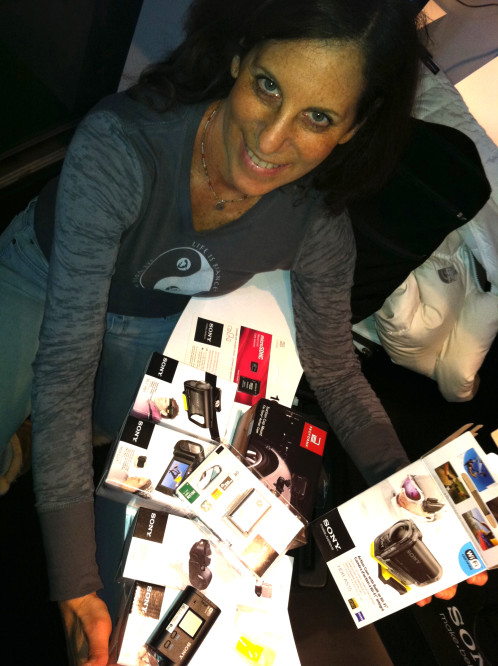 Last week I received an email selecting me to represent NYC in a very cool project called the Moving 212 sponsored by Sony and Flavorpill. My assignment: pick up a SONY ACTION CAM from the NYC Sony Store, along with a bundle of mounting accessories (which I get to keep!) and shoot some video from the unique perspective that only I can see while doing something…er…active! The Sony Action Cam gives you the ability to capture action from a variety of views not possible with a regular camera.
I arrived at the Madison Avenue store on Tuesday morning and was introduced to Tim, one of the store Sony Experts who was going to train me on using the Action Cam and all of its' accessories. No sooner did I sit down when Tim brought over a shopping bag packed full of some pretty cool swag!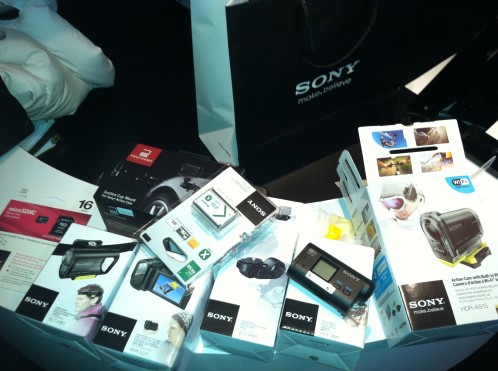 Tim spent about an hour showing me how the Action Cam worked. He even showed me this cool app called Sony PlayMemoires that I downloaded from the App Store which allows me to view what the camera sees and change the settings right from an iPhone or Android device as long as you are in a wi-fi area. We couldn't get the app to work on my iPhone in the store but I was able to figure it out when I got home. So I am able to use my iPhone, my iPad and my Google Nexus 7 Tablet…cool!
When I left the store I headed home to plan my upcoming shoots! I have to deliver 2, 5-minute video clips using the Sony Action Cam. Since I won't be skiing during the time frame that I have, I decided to try out my camera in the swimming pool. Later that afternoon, I got a call from Brian at the agency with some suggestions as to how I could best film myself in the pool.
Armed with my new camera, waterproof case, google mount and headband mount, I headed off that evening to the Olympic pool at my gym, Asphalt Green to see what cool footage I could get. I first attached the camera to my goggle strap and started to swim laps. I swam for about 40 minutes, all the while changing around the camera position as best I could as well as trying out a few different strokes. I wouldn't know how it all looked till I got home and could view the footage on my computer so I was shooting blind, so to speak.
When I got home and took a look at the footage, I realized a few things. First, I need to make sure that the camera is right side up where I place it (the first bunch of laps I swam were upside down!) Thankfully, QuickTime allowed me to correct that on the computer! I also realized that placing the camera on my google strap was not the best idea since each I turned my head to breathe, the camera turned with me! A whole lot of footage like that will be sure to give someone a headache watching it! A better position I think would be on my back so the camera can capture more of me swimming. With all of the stuff that Sony gave me, the one thing missing was a belt ;to strap around my waist. But not to be deterred by that detail, I rigged up something that will hopefully work. I had a neoprene waist belt that I had bought to hold my waterproof case for my old iPod that I no longer use. I used one of the adhesive mounts that came with the camera to the plastic on the belt and tonight I am going to see how it works!
Stay tuned for my next post which will take you with me on swim #2! Till then, as my Life is Balance swim t-shirt says, "Don't Forget to Breathe!"