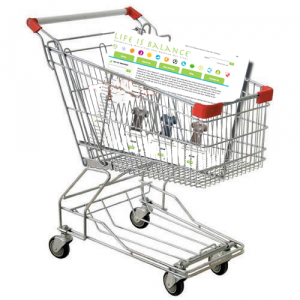 As some of you might know, I have been busy starting up a new online business selling a new line of inspirational t-shirts that I have designed. The easy part was designing the shirts. I did that a couple of years ago. I came up with a design and a name. I then trademarked that name (Life is Balance®) and copyrighted the designs. And then I tried to get them licensed. Simple, right? It didn't turn out to be so easy. While at first it seemed that I was on my way to a great licensing deal, sure to put my designs on the map, it didn't quite unfold the way I had originally anticipated. But, not wanting to give up what I still thought a good idea, I decided to go another route – produce the t-shirts myself and sell them online.
In order to do that I needed an online store. For that I needed an eCommerce website with a shopping cart. I started to do some research into what the best hosted shopping cart were. Since I spent a lot of time doing the research I thought I'd share my findings in the hope that someone else can benefit from my legwork. I know that when I was in the trows of trying to make a decision, I would have loved to read what someone like me had decided to do, and why.
I googled shopping cart and got to an independent review site: zippycart. They explain all the pros and cons of the top hosted shopping carts, compare pricing, ease of use, and various other factors in order to help you choose which cart to go with. They even let you pick different carts to see a side by side comparison. From their advice, as well as entering into various discussions on Linkedin, I picked two carts to try out. I learned that most reputable shopping carts will give you the opportunity to try them out for free for a few weeks, in order to see if they will work for you.
I tried out two shopping carts for their free trial: Core Commerce and 3D Cart. I tried adjusting the templates to make my store look the way I wanted to. It was pretty simple with Core Commerce to make changes to a selected template since I didn't need FTP access to change the CSS (although I have ftp access now) and play around with changing buttons, colors, images, etc. I didn't find 3D Cart as easy (although to be fair I didn't try that hard).
I called customer service at Core Commerce several times and found them very helpful and didn't have to wait long to speak with a live person. I have since found their customer service excellent. They are only open during business hours but since I do want a life (life is balance, after all), I don't think that will be an issue. When I call customer service, I get a live person pretty quickly with very little hold times in most cases. They do have an online ticketing procedure so that I can send a question by filling out a ticket request after hours and I find that I often get pretty quick responses, even after hours.  When I tried calling customer service at 3D Cart I was on hold so long that I finally hung up.
The other main reason that I chose Core Commerce was the pricing plans. I am currently in the lowest cost plan ($19.95/mo) which is the same as 3D Cart's lowest cost plan but I get up to 100 products with that plan and then for $24.99 I would get 200 products. 3D Cart's $19.95 plan gives you only 50 products and the next plan up is $35.99 for 100 products. So economically, Core Commerce gave me better options for growing my product line.
My site was relatively easy to set it up. Anything I didn't understand I called Customer Support and they walked me through it. Being a graphic designer, I do know some html and css so I was able tweak the template in order to make the design my own. If I had a question on coding, all I had to do was post my question in their forums, and someone, either a company representative, or another shop owner, replied with the answer that I was looking for. I only needed a web developer to help me with a few adjustments that I couldn't do on my own. All in all I am happy with my choice and my ecommerce website is now live and open for business. Now all I need are some customers 🙂